What is the DSC Alarm Plugin
This plugin interfaces Indigo 5 to a DSC PowerSeries alarm system using one of the interfaces below. It lets Indigo see the status of the entire alarm system. Triggers can be created for any alarm or zone change, actions can be created to Arm, Disarm, or trip the alarm.
What It Needs
To use the DSC Alarm Plugin you'll need a DSC PowerSeries alarm system, as well as either an
Envislink 2DS
(ethernet interface),
DSC IT-100
or
PC-5401
(both serial interfaces). The PC-5401 is no longer available, it is the older version of the board. New buyers should look for the Envisalink 2DS or the IT-100. The 2DS is a little cheaper and has way more features than the IT-100, I'd recommend it for any new installations.
Download the Plugin
DSC_Alarm_Plugin.zip
- Version (1.0.9), IT-100 and Envisalink 2DS/3 Support
See
Change History
below for details on what's been changed in each version.
Installation
1. Download the plugin from the link above.
2. Double-click on the DSC Alarm.indigoPlugin file, Indigo should launch and ask if you'd like it to install the plugin.
3. The plugin's config screen should pop up. Select the serial port your interface is using and enter your alarm's code.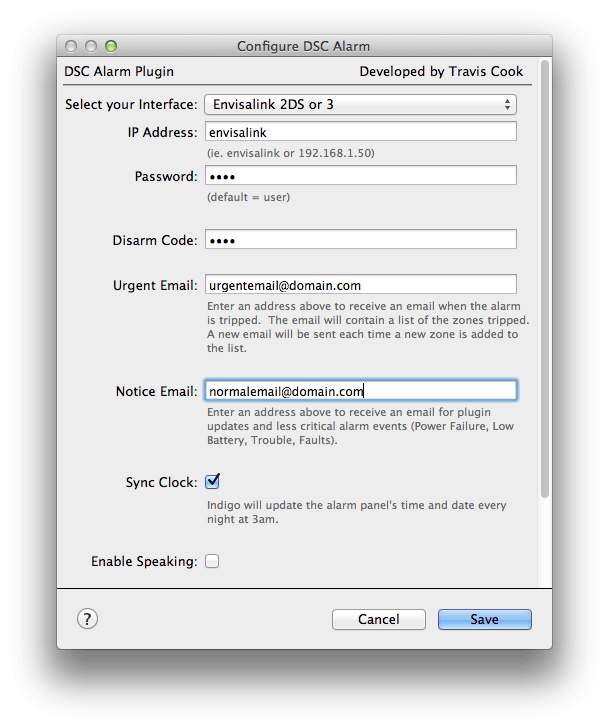 4. Create one Keypad device. This device holds global alarm states like if the system is armed/disarmed, LCD Messages and LED states. It's also the device you use to Arm/Disarm the alarm.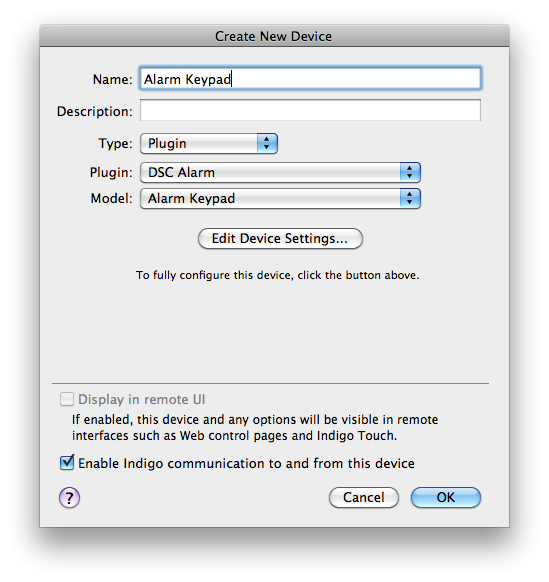 5. Create Alarm Zone devices for each of your alarm zones. If you don't know which of your zones correspond to which zone number, turn on 'Enable Debugging" in the plugin's config and watch the Event Log as you open and close each zone.
6. Create triggers to go off when the alarm state changes, or when a zone state changes.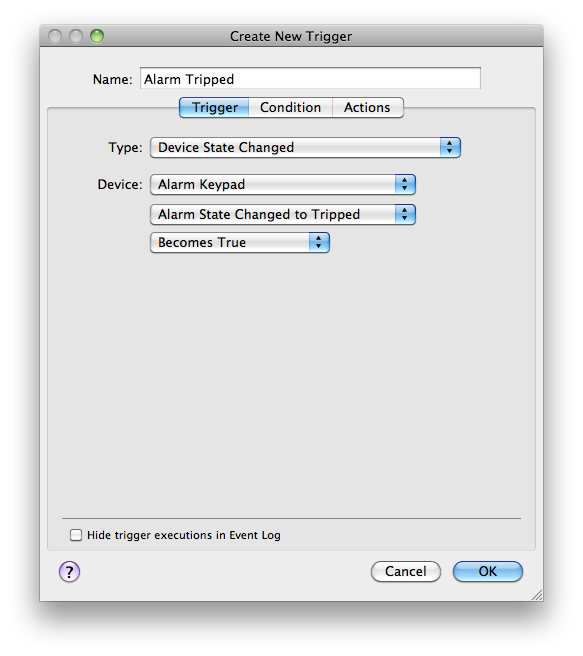 7. Create actions to arm/disarm the alarm.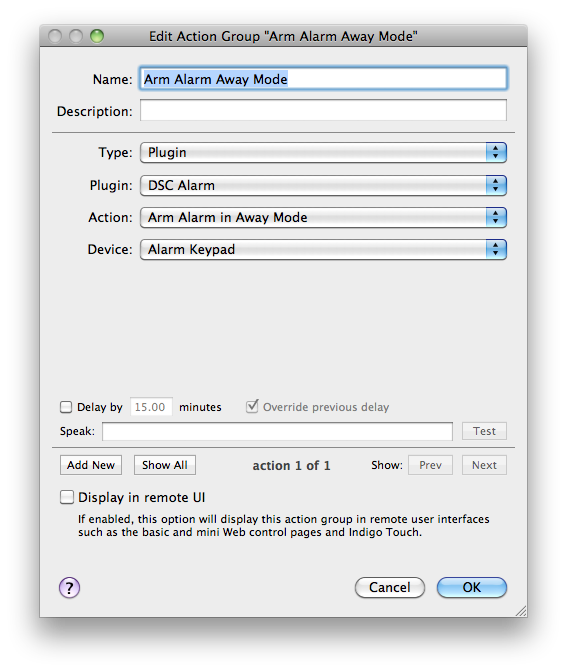 8. Create a cool control page keypad like the one below. All the LED states and LCD messages are updated in real-time just like a physical keypad. The background and LED images I used to create this control page can be downloaded
here
. Open the zip file and copy the contained images to the /Library/Application Support/Perceptive Automation/Indigo 5/IndigoWebServer/images/controls/devices/ folder.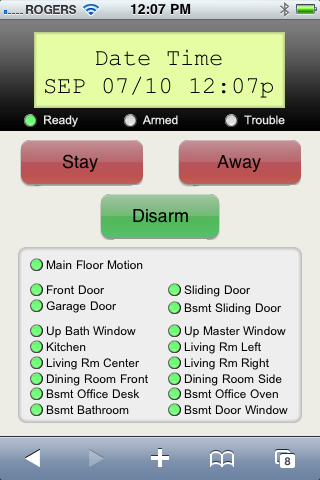 Change History
Version 1.0.9 (Nov 14, 2012):
- Quick fix for compatibility with Indigo 6 beta.
BETA Version 1.0.7 (Apr 2, 2012):
- Fixed for 2DS: Time bug where 12pm showed as 12am
- Fixed for ALL: "Create Variables" would cause plugin to get stuck in an endless loop
BETA Version 1.0.6 (Mar 31, 2012):
- Fixed for 2DS: Login bug that popped up when 2DS was updated to 1.07.65
- Fixed for 2DS: Plugin will now announce open zones if attempt is made to arm alarm from plugin
- Fixed for 2DS: Configuration issue where an IT-100 serial port needed to be selected for proper plugin startup
- Fixed for 2DS: Ping errors are now suppressed unless they happen 3 times in a row
- Added for 2DS: Date/Time now displayed in keypad state variables for 2DS users
- Added for ALL: Trigger events for Alarm Disarmed, Tripped, Failed to Arm
- Removed for ALL: Removed Failed To Arm keypad state (use above trigger event instead)
Version 1.0.0 (Nov 28, 2011):
- Lots of minor enhancements.
- Fixed a bug where the plugin would hog CPU on first launch. (credit to mrcandy for finding this one)
- Changes to alarm devices now take effect immediately without having to restart the plugin.
- Added an action to set the time of the alarm to the same as the computer. Setup a schedule to run this nightly to keep your alarm's clock in check and to adjust for changes in Daylight Savings Time.
Version 0.9.3 (Jun 28, 2011):
- Device states now show up properly in the Device List. Unfortunately existing devices have to be deleted and recreated for this to take effect.
- Added ability to trigger Fire, Medical, and Panic alarms.
- Added ability to send keypad key presses or even key strings
- Added events that trigger when the alarm is armed or disarmed by a particular user
Version 0.9.1 (Jun 27, 2011):
- Fixed LCD parsing for some alarm panels
- Added support for temperature sensors
Version 0.9.0 (Jun 26, 2011):
- Initial release of the DSC Alarm Plugin (version 0.9.0)